This week's Weekend Caption Contest™ was great, although the videos of Paul Ryan laughing as various Democrat representatives tried to argue with the final review of the Electoral College results in the House are even better. Definitely look those videos up-they're a side splitting tour-de-force. There were over two hundred entries so we have double winners for each place. The assignment this week was to caption the following picture:

Here are the winning entries:
1) (guido81_MA) – "I shit you not, his password was 'PASSWORD'!"
(rodney dill) – ""Then Schumer said he regretted changing the filibuster, and I said, at this point what difference does it make?""
2) (cathymv) – "And we woke up again this morning and HIllary STILL isn't the President!"
(Rick Adams) – ""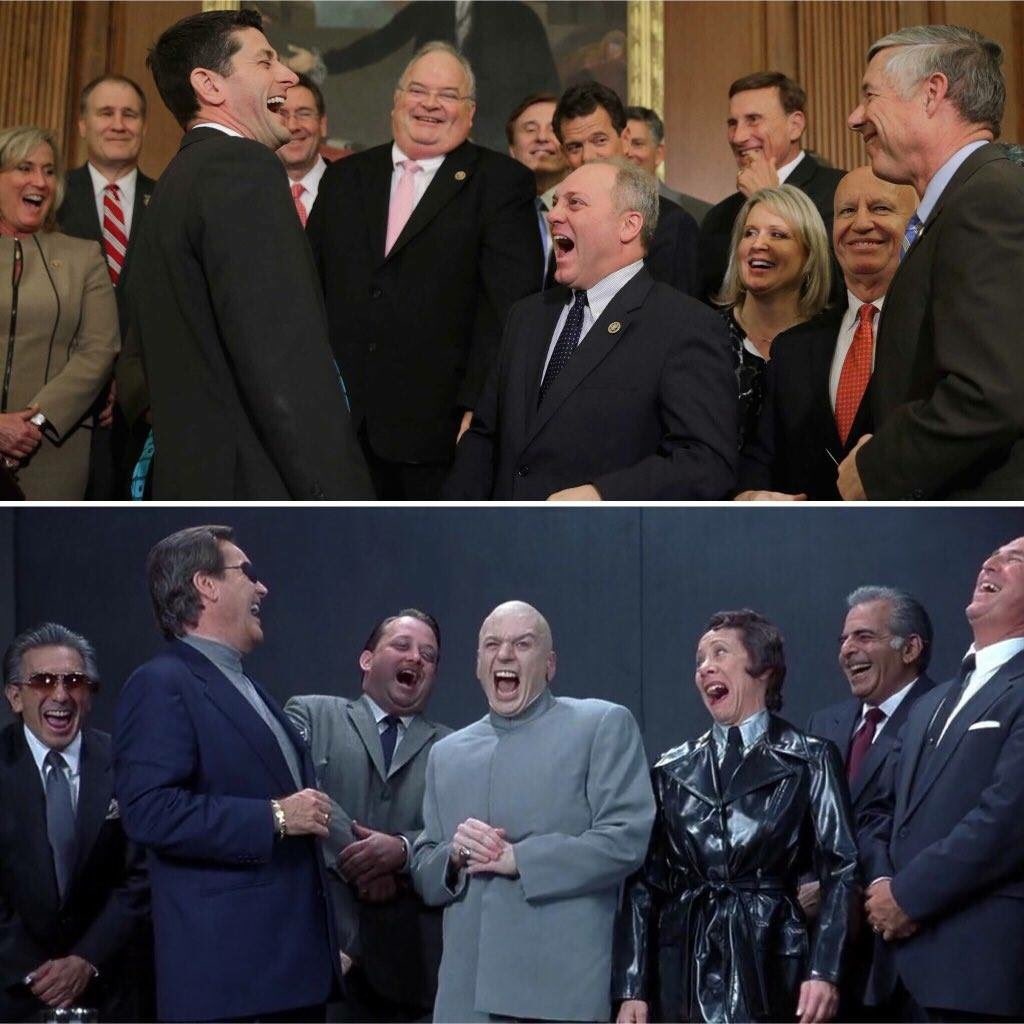 3) (fustian24) – "Funny, the swamp doesn't look too worried."
(Paul Hooson) – ""That's Wall folks!"."
4) (Brian Brandt) – "Can you imagine. Some constituent wanted to talk to me today!"
(Stephen_Macklin) – "And then I said we were going to reduce the size of the government…"
5) (yetanotherjohn) – "I didn't know the GOP caucus read the wizbang caption contest entries."
(jim_m) – "GOP House Leadership is encouraged about their bipartisan efforts with the Lollipop Guild."
6) (Olsoljer) – "Ryan: …….then Obama tells Putin he wants to talk man to man, so Putin says "OK, put Michelle on the line"."
(LiberalNightmare) – "… and then Biden said, "It's over."!"
The Readers Choice Award this week goes to:
(David Robertson) – ""So, I told President Obama, 'If you like your legacy, then you can keep your legacy.'""
Honorable Mention(s):
(Retired military) – "Ryan "Pelosi tried to smile and her face cracked""
(Scorpion) – "The official response to the "I Told Him To Cut It Out" comment to Putin."
Most Inappropriate But Funny:
(Mary Gehman) – ""Leave it to you to bring a couple of pussies to a cock fight.""
That's all for this weekend. A new edition of the Wizbang Weekend Caption Contest™ will debut Friday morning.