Over at The Daily Beast, Michael Tomasky wants to give his readers some Straight Talk About 'Crooked Hillary' Clinton.
In his defense of Clinton, he claims that attacks on Clinton during the 90s were based on ideology alone. Move along, citizens. There is nothing to see.
Perhaps Tomasky wasn't reading the New York Times back in the 90s. If he had, then he would have read this NYT story from June 1, 1996:
"After nearly two years of searches and subpoenas, the White House said this evening that it had unexpectedly discovered copies of missing documents from Hillary Rodham Clinton's law firm that describe her work for a failing savings and loan association in the 1980's. Federal and Congressional investigators have issued subpoenas for the documents since 1994, and the White House has said it did not have them. The originals disappeared from the Rose Law Firm, in which Mrs. Clinton was a partner, shortly before Mr. Clinton took office."
If one doesn't understand why those documents are important, then only only needs to read the article Document Theft and Destruction Nothing New for Hillary Clinton written by retired D.C. attorney Paul Mirengoff.
Here is an excerpt from the article.
"In 1994, the Castle Grande billing records were subpoenaed. They were not produced at that time.
A year and a half later, Carolyn Huber, a White House employee, found the billing records in the private quarters of the first family, right outside Mrs. Clinton's private office. Huber said that, not knowing what they were, she packed them up and took them to her own office. Only later, in early 1996, did she realize that these were the famous billing records that prosecutors were after.
The billing records were then produced, two years late. Hillary's fingerprints were on them.
The records show that Clinton billed time for work on Castle Grande, and was the billing partner for this representation. More than that, they show that she and/or Hubbell performed legal services — described, for example, as "conference with Seth Ward" or just "Seth Ward" — on every day in which federal prosecutors had found that McDougal and/or his cronies had committed an act in furtherance of their unlawful conspiracy e.g., backdating documents and making phony loans.
In effect, the billing records place Clinton and Hubbell at the scene of the crime…
… Hillary Clinton was slated to be called as a witness at Hubbell's trial. Her attorney met with lawyers from the special counsel's office to try to persuade them that the charges had nothing to do with Hillary. This absurd claim was rejected. The very next morning, Hubbell's lawyer informed the special counsel that he would plead guilty."
Hillary Clinton's cover-up of her involvement with Castle Grande was a precursor of another cover-up, the latter pertaining to Clinton's time as U.S. Secretary of State.
The problem with a cover-up is that the cover-up itself has to go undetected in order for one to get away scot-free.
That hasn't happened with the latter cover-up.
The general public now knows that "A number of Hillary Clinton's private emails were erased weeks after The New York Times published a story reporting on her use of a private email server while secretary of State, according to notes from the FBI's investigation released on Friday. The notes include an entry that says that someone mistakenly deleted Clinton's archived mailbox from her server and exported files. The deletion took place between March 25 and March 31, the FBI learned in a May 3 interview. The name of the person who deleted the emails was redacted from the FBI's notes."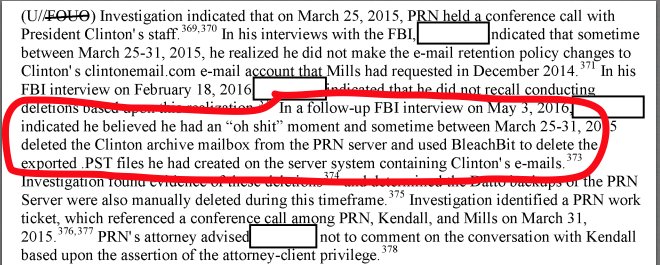 The general public now knows that Hillary Clinton's "aides destroyed her BlackBerries with hammers."
The general public now knows that on 09/13/16, "Three IT specialists involved with Hillary Clinton's private email server refused to testify before the House Oversight Committee on deletions of some of Clinton's emails. One of these three, Bryan Pagliano — the former State Department employee who set up the server — defied a subpoena and failed to appear at the hearing altogether. The other two, engineers at the outside firm that managed Clinton's server, appeared under subpoena but invoked their Fifth Amendment rights in response to every question."
The general public now knows that "Hillary Clinton's former chief of staff, Cheryl Mills, and two other staff members were granted immunity deals in exchange for their cooperation in the now-closed FBI investigation into Clinton's use of a private email server as secretary of state."
"Rep. Jason Chaffetz, chairman of the House Oversight and Government Reform Committee, told The Associated Press on Friday that Mills gave federal investigators access to her laptop on the condition that what they found couldn't be used against her."
The general public also knows that "Immunity deals for two top Hillary Clinton aides included a side arrangement obliging the FBI to destroy their laptops after reviewing the devices, House Judiciary Committee sources told Fox News on Monday. Sources said the arrangement with former Clinton chief of staff Cheryl Mills and ex-campaign staffer Heather Samuelson also limited the search to no later than Jan. 31, 2015. This meant investigators could not review documents for the period after the email server became public — in turn preventing the bureau from discovering if there was any evidence of obstruction of justice, sources said."
Hillary Clinton and her aides may have successfully covered up whatever was so damaging to Clinton. However, BleachBit can't wipe the cover-up out of existence. The odor of the cover-up will stick to Clinton and her aides.
As Pepe Le Pew would say …