Then this project, my friend, is for YOU:
The prizewinning artist Gregor Schneider, enfant terrible of the German cultural scene, is looking for a volunteer who is willing to die for his – that is, Mr Schneider's – art.
He wants someone whose dying hours will be spent in an art gallery with the public admiring the way the light plays on the flesh of a person gasping for the last breath.
Politicians and curators are in a state of uproar about Mr Schneider's plans. The 39-year-old artist has been concerned with death for much of his career. He gained critical acclaim for a sculpture, Hannelore Reuen, of a dead woman. He has been hatching his current idea since 1996, and now has a sympathetic pathologist and art collector to help to find a candidate who wants to become a work of art in the final days of his or her life.
"The dying person would determine everything in advance, he would be the absolute centre of attention," said Mr Schneider. "Everything will be done in consultation with the relatives, and the public will watch the death in an appropriately private atmosphere."
…
The Schneider project, however, seems to have gone too far. It is being compared with watching executions in the United States. The influential gallery owner Beatrix Kalwa spoke for many German curators who rule out the idea of giving space to Mr Schneider's artistic endeavour. "Existential matters like death, birth or the act of reproduction do not belong in a museum," she said. "There is a fundamental difference between portraying these acts in an art form, and showing them in actuality."
The head of the German hospice foundation that provides care for the terminally ill, Eugen Brysch, said: "This is pure voyeurism and makes a mockery of those who are dying." But Mr Schneider, who feigned his own death as part of an exhibition in Germany in 2000, argues that death is already undignified and that his aim is to restore its grace.
This guy is a prize-winning artist? Here's an example of his "art":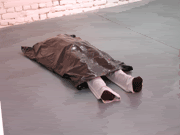 Modern art is just so great, isn't it? You got people putting crucifixes in urine, covering the Virgin Mary with crap and vaginas, a naked chocolate and "anatomically correct" Jesus, starving dogs, attempting to abort themselves, and now letting someone die in a museum — and it's all called "art".
Death is not something for people to put on display. Some things deserve respect, and a person dying is one of them.