Oliver Stone is making a new movie… about President Bush! Woohoo!
Director Oliver Stone has set James Cromwell to play George Herbert Walker Bush and Ellen Burstyn to play former first lady Barbara Bush in "W," a drama about the formative years of their son, President George W. Bush.
Josh Brolin is playing the title character, and Elizabeth Banks will play first lady Laura Bush.
Stone will direct from a script by his "Wall Street" co-writer Stanley Weiser. Moritz Borman is producing with Bill Block and Jon Kilik.
Block's QED International is financing the film, which will begin shooting Shreveport, La., at the end of April.
Cromwell recently made another fact-based foray in a film about an iconic political figure: He played Prince Philip alongside Helen Mirren in "The Queen."
Stone was calling the project "Bush" when he began showing it to buyers (Daily Variety, Jan. 21), but the filmmakers are now calling it "W." The film is expected to be ready for distribution possibly by the November presidential elections and certainly before Bush leaves the White House in January.
Is it too early to start taking bets on how craptacular this is going to be?
And how about that casting? Fantastic, huh? Here are pictures:

Josh Brolin
Elizabeth Banks
James Cromwell
Ellen Burstyn
They look just like these people:

President George W. Bush
First Lady Laura Bush
Former President George H.W. Bush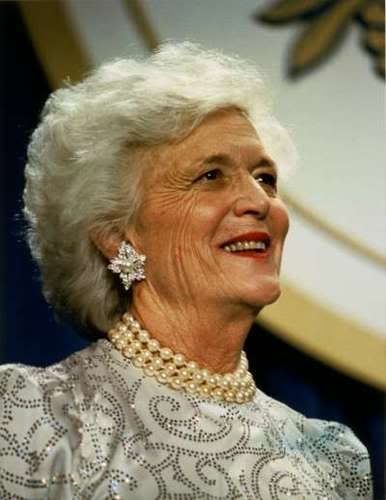 Former First Lady Barbara Bush
I guess with the magic of movie make-up, it doesn't really matter. Raw, seething hatred of Republicans and a healthy dose of BDS is much more important. And let's face it, that's pretty plentiful in Hollywood, isn't it?
And of course, the very fact that it is an Oliver Stone movie means we can expect it to be chock-full of inaccuracies, lies, twisted facts, paranoia, embellishments, and conspiracy theories. Look at his past movies.
Let's use Alexander as our first example. He turned one of the greatest military leaders in the history of mankind into a homosexual mama's boy with horrific blond hair and a penchant for throwing temper tantrums.
Then there are his past political movies: Nixon, JFK, Born on the Fourth of July… all hyper-paranoid, conspiracy theory filled psychotic movies.
It's surely what we can look forward to with W.