Feministing brings us today's outraged-over-nothing report, with Taco Bell's Mysogynist Hot Sauce (I'm not kidding).
The feminists are complaining about Taco Bell's new ad campaign, called "Direct Daniella", in which they've partnered up with Sports Illustrated to give some lucky customer the chance to be the photographer in a Sports Illustrated: Swimsuit Edition photo shoot.
They are, of course, offended and simply OUTRAGED!:
One of our readers sent us an email recently, rightfully confused as to why Taco Bell's hot sauce packets are now printed with a website that leads you to perhaps the creepiest ad campaign ever. "Direct Daniella" has the user follow around a swimsuit model, taking pictures of her in a weird stalkerish webcam way.
Reader Karlen wrote, "What this has to do with lousy 'Mexican' fast food is beyond me." Indeed. So I did a little digging. Turns out, Taco Bell has joined up with Sports Illustrated to promote the magazine's swimsuit issue.
Exotic, huh? It's like a big ole chalupa of sexism and grossness wrapped in some fetishization of women of color. De-licious.
See, folks, not only is this campaign steeped in sexism, but there's also some racism, fetishization, and all around creepiness.
Because Taco Bell is letting a regular Joe photograph a supermodel rather than a "professional".
Last time I checked, wasn't the entire point of modeling to, uh, have your picture taken? Am I missing something? I'm female, and I'm pretty unoffended by this.
Oh, that's right! I forgot. I've been brainwashed by the establishment. I clearly can't be thinking straight, since I don't buy into the feminist orthodoxy of perpetual outrage, where men are all EEEEEEEVIL!. Got it.
Here's how Taco Bell, the evil mysogynists themselves, describe the promotion:
Imagine standing on the shores of an exotic beach, the warm sand beneath your feet while the sun glistens off your back. You are enjoying the sound of the waves crashing behind you, when suddenly a gorgeous supermodel walks up and asks, "Are you my photographer?" Welcome to Taco Bell's Direct Daniella interactive experience.
Taco Bell® has teamed up with Sports Illustrated and 2008 swimsuit model Daniella Sarahyba to create a one-of-a-kind online swimsuit photo shoot, Direct Daniella, where users become the photographer with the exotic Brazilian beauty. Virtual photographers can get behind the lens beginning on Tuesday, February 12, 2008 at www.DirectDaniella.com.
…
Visitors to the site will "direct" Daniella in their very own online photo shoot, set on the beautiful beaches of Grand Cayman Island. The site will feature several scenes of exclusive footage that visitors will be able to choose from for Daniella's shoot including the model playing volleyball, lying on the beach, and lounging in a hammock. Interactive photographers can tap into their creative side and select different angles and settings to capture the perfect shot of Daniella. The site also allows users to share their photos with friends by sending them a site link or downloading their own images.
"The hotly anticipated Sports Illustrated Swimsuit Issue is a great vehicle to reach our core target, and we wanted to involve them from a unique, personalized perspective," said David Ovens, Chief Marketing Officer, Taco Bell Corp. "Direct Daniella.com is a fun way to engage with our consumers online, getting them inside a swimsuit photo shoot. To grab their attention in-store, we're utilizing more than 208 million limited-edition purple Direct Daniella.com Hot Border Sauce Packets during the promotion, the first time it has been printed without its iconic 'sauce wisdoms'."
Yes. This is truly shocking. Directing a supermodel for a photo shoot — what was Taco Bell thinking?! And promoting this sexist crap on their sauce packets?! Horrible, absolutely horrible. Women everywhere will suffer because of this, I am telling you. Things like this are why women in the United States are still victims!
And this Daniella… she may think she is a willing participant. But she's just been brainwashed by the EEEEEEVIL! patriarchal establishment. She doesn't really understand what she's getting into, and therefore, this is not just mysogynistic, but sexual harassment as well! Taco Bell is forcing some poor Brazilian girl to parade around a swimsuit in the Caribbean for the enjoyment of men against her will! How dare they?!
Here's a picture of Daniella, which I think pretty clearly shows that she doesn't have much of a problem with parading around in next to nothing in exotic locales, so what these women are whining about is beyond me: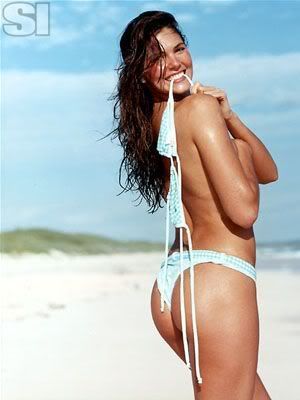 Stories like this are exactly the problem with feminism today. This is why, by and large, the majority of Americans (both male and female) ignore the feminist establishment. Women have, for the most part, achieved equality in the United States. Sure, there are some isolated incidences of sexual harassment or sexism. But it isn't a problem we face every day in the United States anymore. And fighting abortion, my friends, does not count as fighting for "women's rights". Places where women truly are oppressed, like in the Middle East, are almost completely ignored by Gloria Steinem and co. But here in America, feminists don't have much to complain about anymore, so they find ridiculous things to whine and scream about, even when it's a non-story, like this one, rather than focusing on fighting real oppression around the world.
Feminists: GROW UP. Stop overreacting. When you're ready to act like big girls, maybe then we'll start taking you seriously.
Oh, but wait. I'm a female conservative, and therefore, I'm a whore for Republicans and am brainwashed by the male establishment. Disregard everything I just said. Clearly, I can't have come up with these thoughts all on my own.