To Costa Rican "artist" Guillermo "Habacuc" Vargas it is. He found a dog on the street, tied him up, and gave explicit instructions for the dog to not be fed. Obviously, the dog died.
Habacuc's exhibition included a legend spelled out in dog food reading "You are what you read," photos and an incense burner that burned an ounce of marijauna and 175 "rock' of crack cocaine. In the background, according to reports, the Sandista national anthem played backwards.
According to the artist, his "art" was a tribute to Natividad Canda, a Nicaraguan burglar killed in Costa Rica by two rottweilers guarding property he had entered at night. The incident caused friction between the two countries. Habacuc told the daily La Nacion, "I won't say the dog died. The importance to me is the hypocracy of the people where an animal is the focus of attention where people come to see art but not when it's in the street starving to death."
"The same thing happened with poor Natividad Canda. The people sympathized with him only after he was dead," the artist added.
Typical liberal — crying huge crocodile tears over a burglar killed by guard dogs.
Animal abuse? No, of course not! This is art, see? We're just a bunch of idiots who aren't on his artistic plane. We just don't understand, and we're not expected to. We're supposed to be offended, while Vargas gets embraced in modern art circles. He's been chosen to represent Costa Rica in the "Bienal Centroamericana Honduras 2008".
Once upon a time, wasn't art supposed to be beautiful, inspirational, and yes, sometimes provocative? I don't think much in modern art fits those descriptions. Disgusting, offensive crap is a much better description.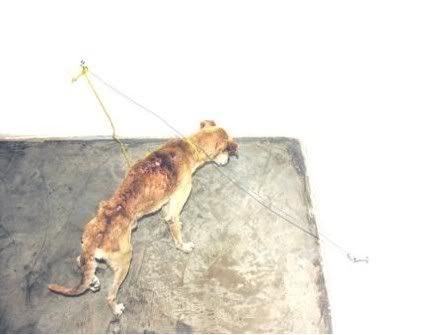 Hat Tip: Moonbattery