For those unfamiliar, Hulk Hogan has a reality TV show on VH1 called Hogan Knows Best, making his wife and two children D-list stars right along with him. Brooke, his daughter, has tried to make a singing career out of wearing trailer-trashtastic get ups and doing the breathy Britney Spears voice. Nick, on the other hand, has decided that he wants to be the next Lindsay Lohan or Paris Hilton.
He's been caught driving recklessly multiple times, and even bragged about it to Rides Magazine:
"In my silver Viper, I was driving from Miami to Tampa. I got pulled over going 107 [mph] and the guy let me off. He's like, "Hey, I know who you are, just keep going, ya know." Dude, I got back on the road and two minutes later I get pulled over going 113 [mph]. Another highway patrol from the same county said, "I just heard on the radio that my buddy pulled you over and let you go. I'ma let you go this time. It's your second warning. You get pulled over again, you're probably going to go to jail." Three minutes later, [I was] doing 123 [mph] in a 50 [mph zone]. The guy is like, "Hey, I just heard you got pulled over twice in the last 10 minutes. I got to write you a ticket."
However, this most recent reckless driving adventure may be leading to the death of his passenger, a Marine who is not recovering.
He was going around 80 in a construction zone in his Toyota Supra, with construction workers present, and apparently was racing a silver Viper when the crash occured. Neither Nick nor his passenger, the Marine in critical condition, were wearing seatbelts.
This is what the car looked like after the crash: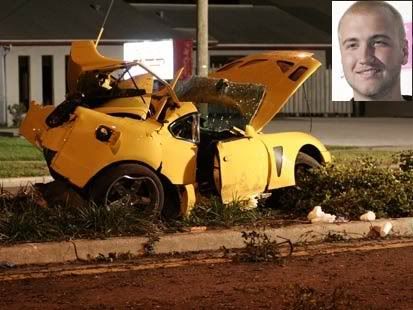 While Nick escaped with nothing more than a few scrapes and bruises, his passenger, John Graziano, a 22-year-old Marine, may not survive and if he does, will most likely be a vegetable the rest of his life.
A Sept. 19 report filed by registered nurse Joanne Jones, who was hired by the court to examine John Graziano to determine if he is incapacitated, said he was on total life support. The report said that Graziano was comatose and that he may have had a seizure.
Jones' report said Graziano responds to a pinch and has a gag reflex but does not otherwise respond to touch or sound. His pupils are fixed, meaning they don't respond to light.
Coleen Booker, a registered nurse with 14 years of emergency room experience at Shands Hospital at the University of Florida in Gainesville, said in an interview that it is not encouraging that he is on life support and his pupils are fixed.
"But the signs that he has a gag reflex and does respond to pain means he's not brain dead," said Booker, who is not involved with Graziano's treatment.
In her report, Jones detailed the injuries Graziano sustained during the wreck. He broke his skull at the base, had part of his skull cut out, experienced brain swelling and had cuts to the scalp. Bone was pushed in and broken in many pieces. He had abnormal collections of blood under the front side of the skull.
In an addendum, Jones included information given to her by Graziano's doctor, H. Bushnell Clarke. He told her that at best, Graziano will "open his eyes on and off."
"At this present time, he states his prognosis remains guarded," Jones wrote in her Sept. 26 addendum. "He states that this young man most likely will spend the remainder of his life in a nursing home."
She said Graziano should be re evaluated in six months to see if his condition improves.
Here is Graziano and his mother before the crash: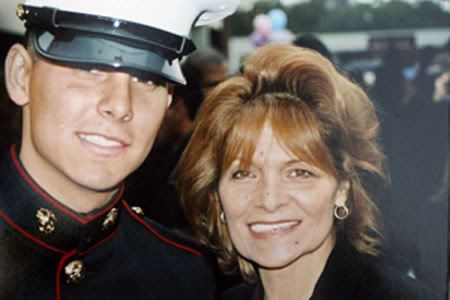 Police are still investigating the crash to determine whether or not Nick Hogan can be held criminally responsible.
Folks, I try not to do a lot of PSAs. But use this as an example of what can happen when you drive like an idiot over and over and over again. Sadly, with Nick Hogan's driving background, it was only inevitable that something like this was bound to happen, and it's a sad and cruel twist of fate that an innocent passenger will be the one to pay the price for Hogan's stupidity.
Use common sense when you're behind the wheel. Don't do double the speed limit or worse. Wear a seatbelt. And for God's sake, don't drink and drive either.
And in the meantime, please keep the Grazianos in your thoughts and prayers. They could use them right now.